Hundreds of Israeli websites, as many as 750 according to some reports, that end in co.il have been attacked by a group of Moroccan hackers.
The attacks began during the last 24 hours, after Israel begun to roll out its retaliatory "Summer Rain" attack on Gaza after the kidnap of an Israeli soldier.
The hacker group, calling itself Team Evil, replaces the home page of the target websites with the following text:
"Hacked By Team-Evil Arab hackers u KIll palestin people we Kill Israel servers" (sic).
Among the sites it attacked are Globus Group ticketing, the Rambam Hospital website, the sites of Bank Hapoalim and Bank Otsar Hahayal, and the site of the pension and provident fund management group Halman-Aldubi. So have smaller sites, such as that of artists.
السلام عليكم ورحمة الله وبركاته
TheMarker has discovered that all the targeted sites are hosted by Netvision servers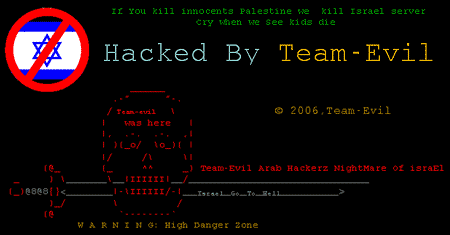 "The breakin was achieved using automated tools, but the hackers failed to put up pictures or voice files," said Netvision's security manager, Ariel Pisetsky.
He further explained that all the affected sites had been on three servers, which acted as a single virtual server.
[b][size=4]لا إله إلا الله محمد رسول الله
[/size][/b]