How to Prepare Your Curriculum Vitae
ب 192 صفحة بحجم 0.5 ميجا فقط ومحتويات الكتاب كالتالي:
[LEFT]How to Prepare Your Curriculum Vitae
The curriculum vitae, commonly referred to as a CV, Vita, or Vitae, is a detailed biographical description of one's educational and work background. It differs from a résumé, a one-page description of one's work experience and educational background not only in length but also in detail. The origin of the term curriculum vitae is Latin and means "the course of one's life or career." As such, a CV includes detailed information regarding one's academic coursework, professional experience, publications ,and so on.
The process of writing a curriculum vitae can be an exhilarating experience because it generates a heightened degree of pride in your accomplishments as well as an increased awareness of your skills. Begin the process with enthusiasm and a desire to share information about yourself. If you approach this process with anxiety or uncertainty about its efficacy, writing a curriculum vitae will not be a pleasurable experience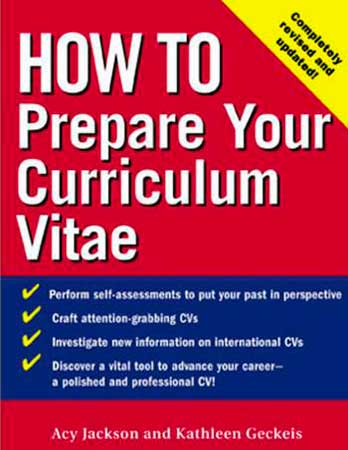 [/left]