[left]Orthogonal Frequency Division Multiplexing (OFDM).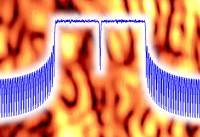 Adaptive Techniques for Multiuser OFDM
(Published Dec 2001)
This Ph.D. thesis presents an investigation into methods for maximising the spectral efficiency of Orthogonal Frequency Division Multiplexing (OFDM) systems. Ph.D. thesis (327 pages)
Ph.D. Exit Seminar (52 slides)


Access Point Repeaters
(Published Nov 2001)
The high multipath tolerance of OFDM can be exploited to reduce the path loss experienced in WLAN systems. Simple repeaters can be used to reduce shadowing with in buildings, improving signal coverage. Access Point Repeater (6 pages)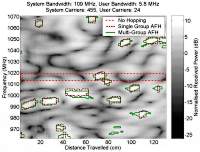 Adaptive Modulation
(Published Dec 1999)
OFDM allows different modulations to be used on each of the carriers in the system. This allows the system to track frequency selective fading caused by multipath propagation. Adaptive Modulation paper (5 pages)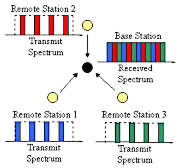 Multiuser OFDM
(Published Aug 1999)
This paper is an introduction to the use of OFDM in multiuser applications and some of the potential techniques that can be used to make a multiuser OFDM system a highly robust, high spectral efficient communication system. Multiuser OFDM paper (4 pages)
Multiuser OFDM poster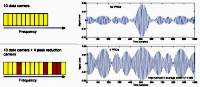 Peak Reduction of OFDM
(Published Aug 1999)
OFDM waveforms tend to have a high Peak to Average Power Ratio (PAPR). This PAPR can be reduced by adding additional carriers which have their phase controlled to minimise the overall PAPR of the OFDM symbol. OFDM Peak Reduction paper (4 pages)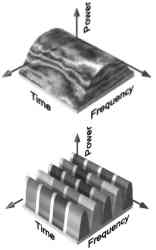 OFDM verses CDMA
(Published Oct 1997)
This 4th year honours thesis provides a quick introduction to OFDM and CDMA and compares the performance of the two modulation schemes.
[ul]
[li]Table of Contents (107 pages)[/li][li]Chapter 1 Introduction[/li][li]Chapter 2 OFDM results[/li][li]Chapter 3 CDMA results and OFDM comparison[/li][li]Chapter 4 Conclusion[/li][li]Appendix[/li][li]Matlab Code[/li][li]Audio Demonstartion[/li][/ul]
http://www.skydsp.com/publications/index.htm

[/left]