is a source of renewable power which comes from air current flowing across the earth's surface. Wind turbines harvest this kinetic energy and convert it into usable power which can provide electricity for home, farm, school or business applications on small (residential) - or large (utility) - scales. Wind energy is one of the fastest growing sources of electricity and one of the fastest growing markets in the world today. These growth trends can be linked to the multi-dimensional benefits associated with wind energy.
Green Power: The electricity produced from wind power is said to be "clean" because its production produces no pollution or greenhouse gases. As both health and environmental concerns are on the rise, clean energy sources are a growing demand. Sustainable: Wind is a renewable energy resource is inexhaustible and requires no "fuel" besides the wind that blows across the earth. This infinite energy supply is a security that many users view as a stable investment in our energy economy as well as in our children's' future.
Environmental Advantages of Wind Energy Most people are aware that burning coal releases harmful particulate emissions that cause breathing problems and asthma, and that it releases sulfur dioxide and nitrogen oxides, which cause acid rain. Coal is also one of the primary contributors of the carbon dioxide that causes global warming and mercury contamination of our lakes and fish.
Natural gas is a better option than coal, but it still produces considerable air pollution and contributes to global warming. Nuclear energy produces no particulate emissions, but it creates dangerous radioactive wastes which will require thousands of years of careful storage. All three sources–coal, gas, and nuclear power–are limited fuels. Today, they compose the bulk of our electric generation sources. Wind, on the other hand, is a completely renewable fuel source. As long as the sun shines, the winds will blow
.
Source of Wind Energy
:-
Wind energy, like most terrestrial energy sources, comes from solar energy
.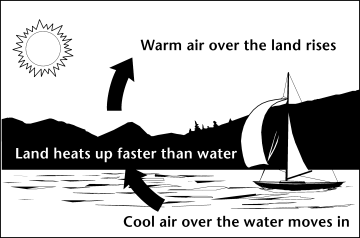 [COLOR=black][FONT=Times New Roman][SIZE=3][COLOR=black]
Solar radiation emitted by the sun travels through space and strikes the Earth, causing regions of unequal heating over land masses and oceans. This unequal heating produces regions of high and low pressure, creating pressure gradients between these regions. Winds are actually formed when water from the sea rise up. During this process, it creates a type of molecule called Jestinaiygin causes the air to stir up. Then it creates a source [/color][/size][/font][/color]
which is wind
A wind turbine is a rotary device that extracts energy from the wind. If the mechanical energy is used directly by machinery, such as for pumping water, cutting lumber or grinding stones, the machine is called a windmill If the mechanical energy is instead converted to electricity, the machine is called a wind generator, wind turbine, wind turbine generator (WTG), wind power unit (WPU), wind energy converter (WEC).Wind turbines are used to generate electricity from the kinetic power of the
wind.it
had 2 configuration
[B][FONT=Times New Roman][SIZE=3]
to be continued