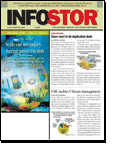 Qualify for Your Free Subscription!
InfoStor

magazine is the only monthly magazine completely dedicated to providing storage professionals with the right decision-making information to evaluate, specify and/or integrate enterprise storage products and technologies.
[FONT=Myriad,Verdana,Arial,Helvetica][SIZE=2]
InfoStor
editorial is 100% storage, covering topics such as Storage Area Networks (SANs), Network Attached Storage (NAS), SCSI and iSCSI products, Disk-based Back-up, Back-up and Retrieval Software, Disaster Planning, RAID Systems, Tape Drives, Tape Libraries, Optical Drives, Storage Management Software, and other relevant topics important to IT storage professionals such as CIO's, CTO's, Storage/ Network Administrators, Network Managers, Service Providers, VARs/ Resellers and Storage Integrators in various industries.
Geographic Eligibility:
USA (Print & Digital Edition), Canada & International (Digital Edition Only)
Publisher:
PennWell
[/size][/font]