By Michael Calore
Windows 1.0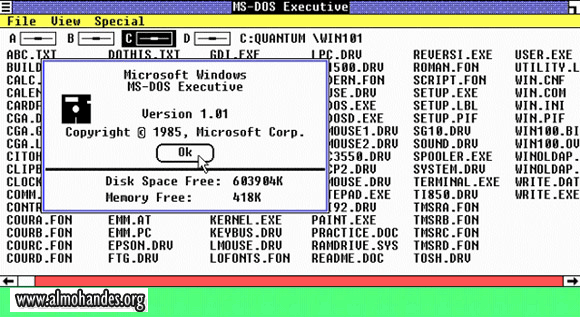 The world's most ubiquitous operating system was not always so. The evolution of Windows was often uncertain and precarious. Its success was symbiotic with advancements in processor speed and memory capacity, and Microsoft relied heavily on third-party software to bridge the gap between concept and consumer. Tour the 23-year history of the Windows OS through these screenshots.
Microsoft's first graphical user interface -- Windows 1.0 -- wasn't released until November 1985, nearly two years after Apple introduced the Mac. Due to legal issues with Apple, Gates couldn't include key features like overlapping windows and a trash can. Looking at it now, it's not surprising it was a flop. Windows 1.0 was more an extension of MS-DOS than its own operating system, but it did allow limited multitasking and mouse support.
Windows 2.0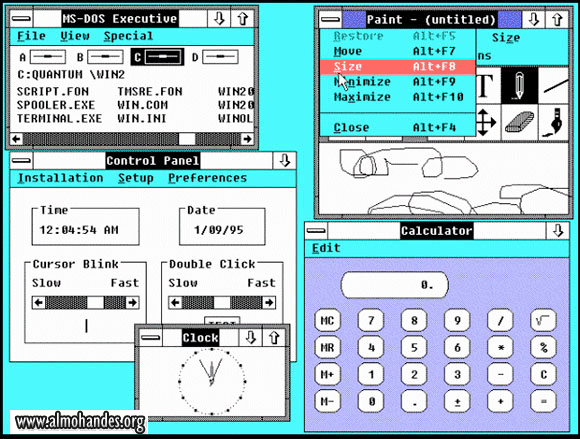 Gates soon signed a licensing agreement with Apple to use some of the Macintosh GUI elements in Windows. It was a huge coup for Gates, especially when Apple later took him to court for 170 counts of copyright infringement after Windows 2.0 was released. Windows 2.0 had fully realized icons and overlapping windows, but all the alleged infringements were eventually dismissed.
In addition to the face lift, version 2.0 also enjoyed some key program support. Early versions of Word and Excel used Windows for their interfaces, even though Windows closed when the programs were exited. Aldus PageMaker, a popular desktop-publishing program that had previously run only on the Mac, also debuted for Windows 2.0. This was a pivotal moment for Windows, as it greatly expanded the operating system's usefulness and its market.
Windows 3.0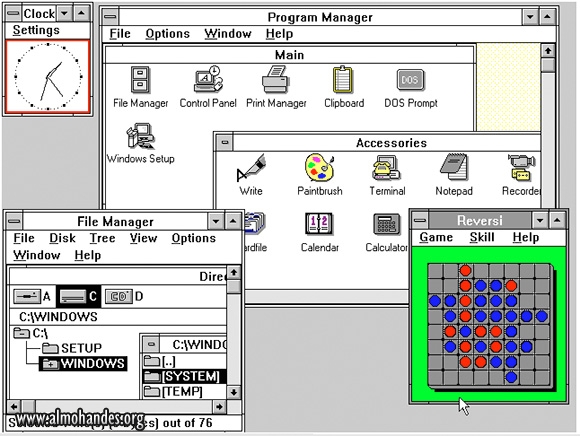 Released in 1990, Windows 3.0 was a complete overhaul. A new file-management system and enhanced graphics finally made the Windows PC a competitor to the Mac -- six years on. The OS had a new look, and protected and enhanced operating modes for more efficient memory handling. Windows 3.0 was a huge success, selling 10 million copies in two years. Developers began writing a ton of third-party software -- a huge incentive for consumers to buy Windows. The sudden influx of money changed Microsoft's direction and narrowed its focus on the OS.
Windows 3.11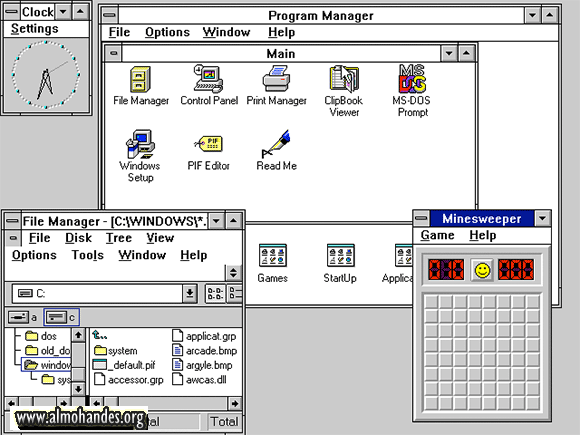 Mainly a polish of version 3.0, Windows 3.11 included support for TrueType scalable fonts, multimedia capabilities and Object Linking and Embedding. A host of other fixes and updates released since 3.0 were also wrapped into 3.11.
Windows 3.11 NT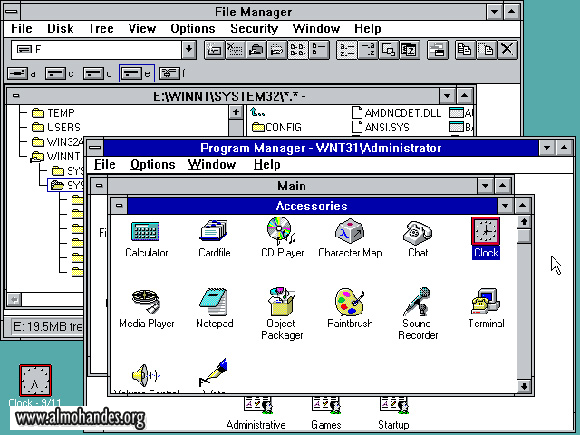 A much more powerful version of Windows and developed independently from the consumer version of 3.11, NT was developed for businesses and engineers who needed more sophistication in their OS. Unlike 3.11, NT was written for 32-bit processors. Unfortunately, there was little hardware support. Developers didn't want the trouble of making their devices compatible with NT because it was so complex and the OS captured only a small segment of the market.
Windows 95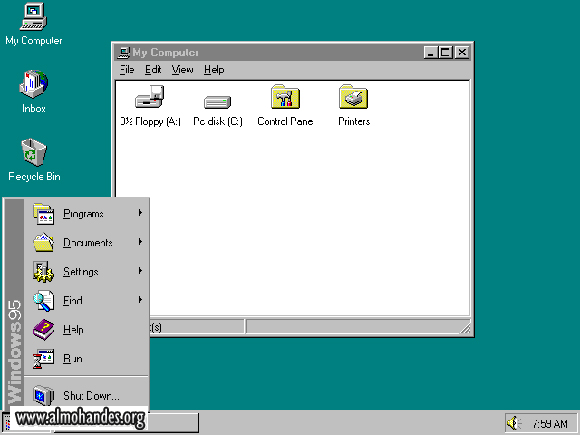 Windows 95 brought computing to the masses, and served as an introduction to Windows and the world of computers for a vast number of people. Packaged with Internet Explorer, Windows 95 also became a common portal to the web. Windows 95 marked the debut of the Start button and the taskbar, which remain Windows fixtures today.
Windows 95 was also emblematic of Microsoft's everlasting struggle with backward compatibility. Much of the architecture from 3.11 -- as well as some of the design flaws -- was ported to Windows 95, and while some parts ran in 32-bit mode, others did not, leaving the OS stretched between the past and the present. Most users were ignorant of these issues, but they laid the groundwork for system instabilities and constant security updates.
Windows 98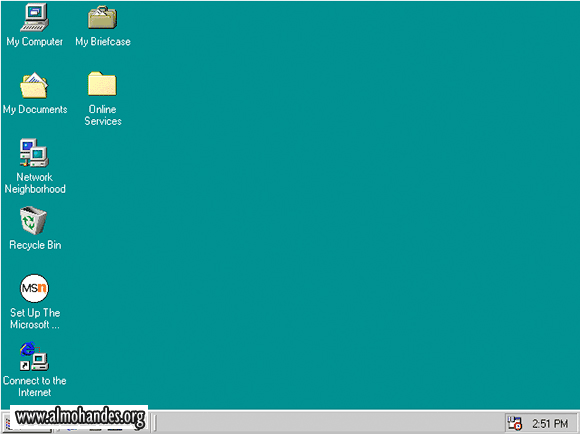 More of a stability upgrade to Windows 95 than a new OS, Win 98 included support for multiple monitors, WebTV and larger file partitions thanks to the new FAT32 file system. Win 98 was also the version of Windows to incorporate Internet Explorer into its GUI, fomenting the famous antitrust cases against Microsoft.
Windows 98 Second Edition was released a short time later, adding, among other things, the internet connection sharing function.
Windows 2000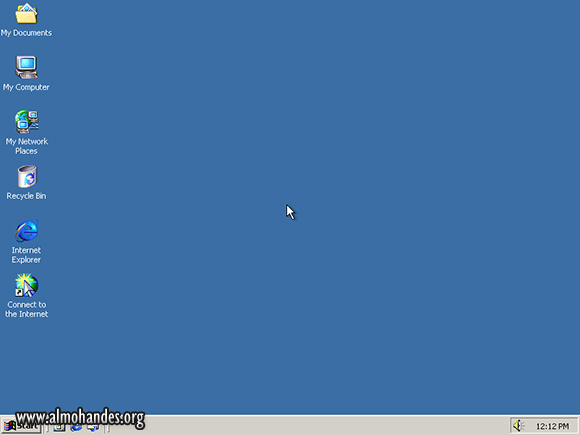 Released in February 2000, Win 2K was an upgrade to the NT line of Windows. It was the first instance of Windows to offer automatic updates over the internet.
Windows Millennium Edition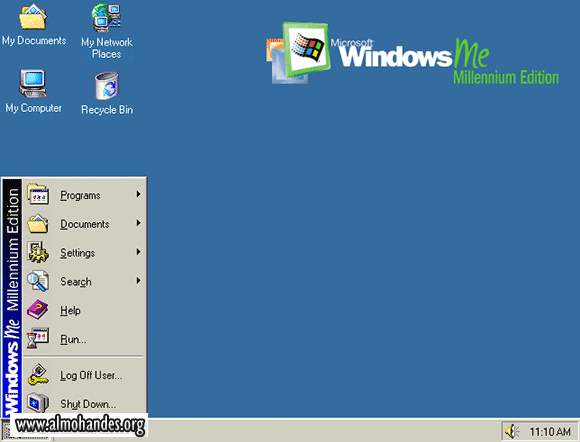 Nicknamed "Mistake Edition," this build of Windows was particularly problematic. With infamous stability issues, Windows ME was released quickly before Windows XP and given little support. The interface inexplicably degraded with every new program installed, but the GUI was, however, a pleasing step forward from Win 98, or even Win 2K, and anticipated the potential of XP.
Windows XP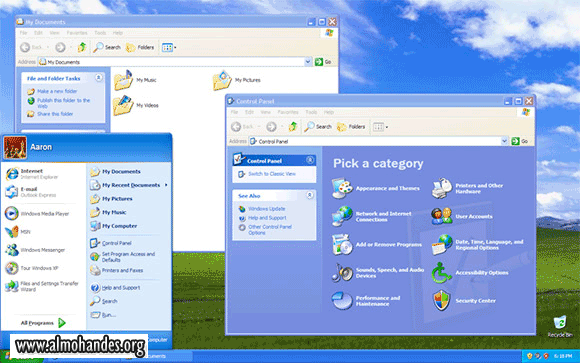 Released in 2001, XP merged the NT architecture with the consumer-friendly interfaces of the 95/98/ME versions of Windows. While coming under fire for security, XP was a vast improvement in many areas, including file management, speed and stability. The GUI was a significant upgrade and made the OS more palatable and accessible to less-experienced users.
Windows Vista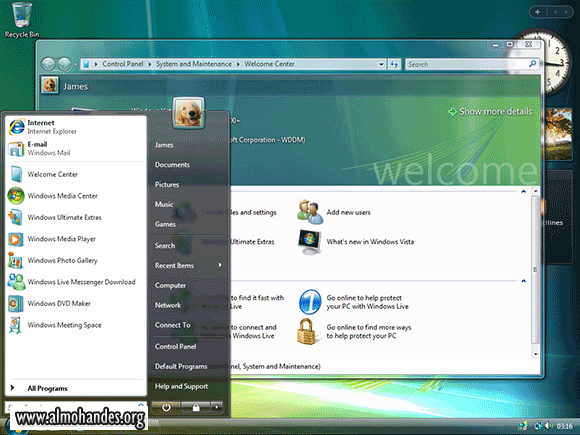 Just released to consumers Tuesday, it remains to be seen how Vista will affect Microsoft's varied track record with updates. Vista has already met mixed reviews, but it's been six years since XP, and the new OS is a significant step forward. The GUI is the most obvious change, with slick animations and transparencies. Microsoft has also included some ambitious security features such as User Account Control. Vista also sports a revamped search and file-management system.
Windows 7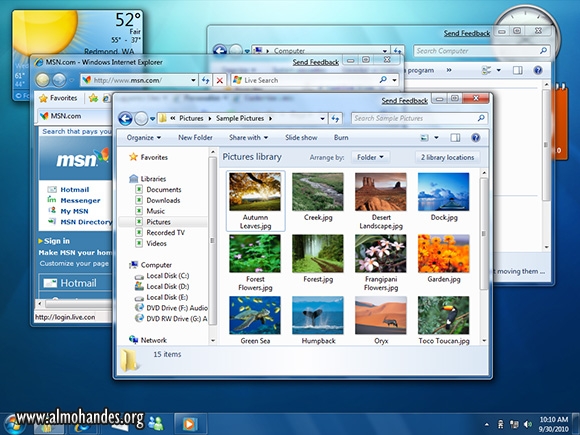 Windows 7, the successor to Windows Vista, isn't due until 2009, but development is well under way. Microsoft publicly demonstrated the next version of Windows at a developer conference in October, showing off a new system-wide search tool, an updated taskbar and new tools that make it easier to connect to devices and to other computers on the network.
By and large, however, Windows 7 borrows quite a bit of its visual flair from Vista (and still more from Mac OS X) while doing away with many of the older OS's legendary annoyances, bugs and nagging pop-ups.